To provide free social visiting service for people over 60 years in the North Kerry Area in particular Moyvane, Listowel, Ballydonoghue, Duagh, Causeway, Ballyduff, Tarbert, Ballybunion, Asdee, Ballylongford.
Service provided
NEWKD/RSS offers once a week visitation for social purposes, to support an older person and to link them to other existing community services in the area. It is to give the older person time to chat and have contact with dedicated pair of RSS/volunteers who are there to listen and engage with them on regular basis.
Video clip of past client Mike Doyle, Mike on life in his own words: https://bit.ly/3rIdKBn
(Video credits: Lorna Crowley, a student at Kerry College Digital Media Course for producing this video and to Jim Twomey for making the final edits.  Mike Doyle passed away since this clip was made RIP. )
Who is eligible for the service ?
This service is free and dedicated to the older people (over 60 ) in North Kerry communities who would like a social visit once a week for approx. 40 min.
Older people living on their own
Older people who have no transport
Older people who are isolated or living in isolated areas
Older people living with an older spouse
Older people who due to medical reasons cannot leave their home
How to apply ?
Older person interested in the service can contact their:
GP,
Public Health Nurse,
Garda Siochana,
Day Care Centre
and other statutory agencies who will make referral on their behalf
NEWKD's Home Visitation Service Guide to Community Services Booklet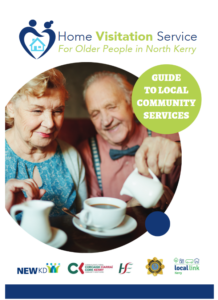 Our team
It is consisting of NEWKD/RSS supervisors, facilitators, workers and volunteers who are Garda vetted, carefully selected, trained and following very strict guidelines in regards to safety and welfare of the elderly.
This service is also supported by the HSE Public Health Nurses, Community Work Department, An Garda Siochana, Local Link and other community based services.
To find out more about the service please contact the office:
One of our supervisors in Listowel on 068 23429
Anita Bodenham, email: anitabodenham@newkd.ie    or    Geraldine Kelly, email:geraldinekelly@newkd.ie
Interested in becoming a volunteer? Contact:
Volunteer Co-ordinator:  Ed O'Connor, Listowel      phone: 068 23429       email: edoconnor@newkd.ie
| Role | Name | Office Base | Telephone | Email |
| --- | --- | --- | --- | --- |
| Coordinator | Ed O'Connor | Listowel | 068 23429 | edoconnor@newkd.ie |
| Supervisor | Anita Bodenham | Listowel | 068 23429 | anitabodenham@newkd.ie |
| Supervisor | Geraldine Kelly | Listowel | 068 23429 | geraldinekelly@newkd.ie |
| | | | | |