Press Release Text
North Kerry, West Limerick: Smart Villages, Stronger Communities: Action Plan Workshop
The 'North Kerry, West Limerick: Smart Villages, Stronger Communities' project is an initiative jointly led by North, East and West Kerry Development (NEWKD) and West Limerick Resources (WLR) in association with KPMG Future Analytics and University College Dublin. The project addresses the unique challenges facing Ireland's rural regions today. With support under the Rural Development (LEADER) Programme 2014-2020, this project aims to unlock innovative new solutions for the sustainable growth and development of rural communities within the North Kerry – West Limerick region.
The Smart Villages, Stronger Community Project was publicly launched in September 2021 with the "Co-Developing Smart Villages – Towards Stronger Rural Communities" event. The central objective of the project is the co-development of an integrated plan for the North Kerry, West Limerick region. This will be supported by the development of 25 local community plans.
Over the past number of months, we have been gathering community and stakeholder views on the key priorities for the region. On the 25th of October 2022, we would like to present these findings and co-develop actions to address these priorities. Please come along and have your say! This workshop will be held in-person in the Listowel Arms Hotel on the 25th of October.
The project team invites all residents within the region to attend this upcoming workshop and make their voices heard in charting its future.
Registration for the workshop and more information on the project is online and can be found on the project website at: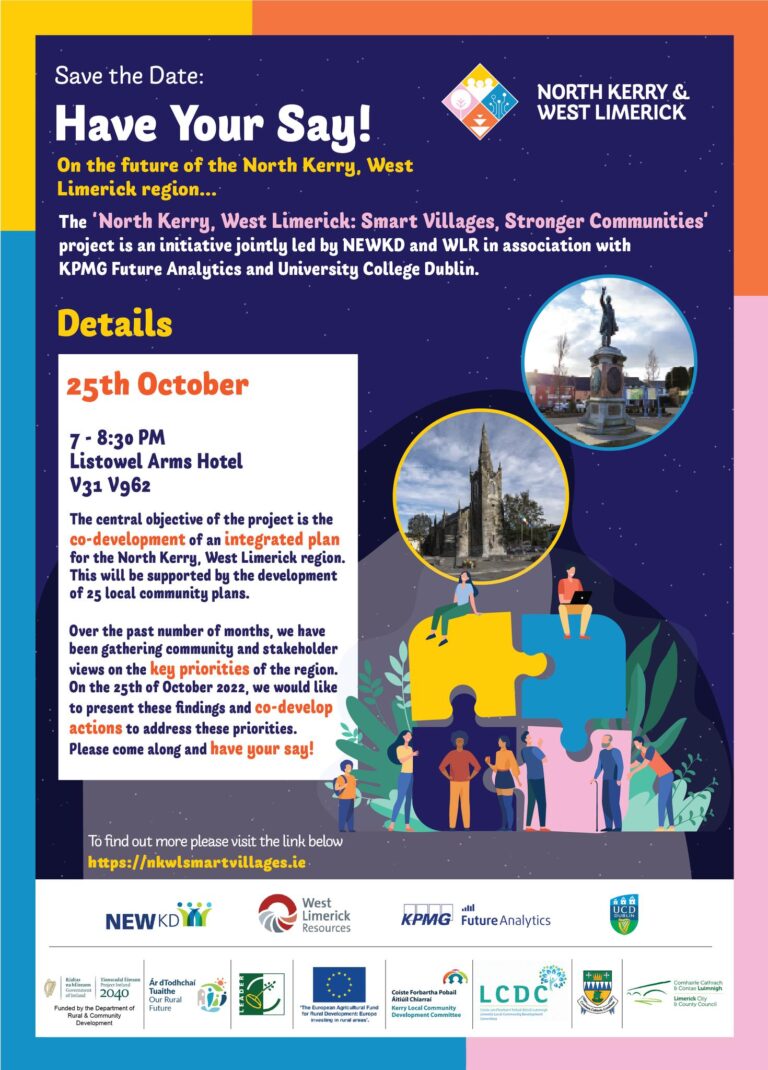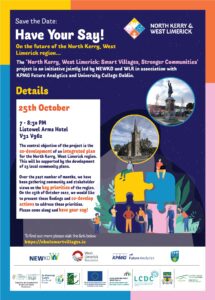 Workshop Details:
25th October 2022
7 – 8:30 PM
Listowel Arms Hotel, Co. Kerry
V31 V962
Project Contacts
NEWKD: Robert Carey; RobertCarey@newkd.ie
WLR: Aimee Grigg; agrigg@wlr.ie