Press Release for Immediate release
Have Your Say … Shaping an Action Plan for the Region!
The 'North Kerry, West Limerick: Smart Villages, Stronger Communities' project is an initiative jointly led by NEWKD (North East & West Kerry Development) and West Limerick Resources (WLR) in association with KPMG Future Analytics and University College Dublin.
The central objective of this project is the co-development of an integrated development plan for the North Kerry West Limerick region based around the smart villages concept which looks at how rural villages can tackle contemporary challenges such as service provision, climate change, depopulation and how technology and innovative thinking can help to provide solutions. This will be further supported by the development of a series of 25 local community plans.
Robert Carey, NEWKD Manager, said "Over the past number of months, we have been gathering community and stakeholder views on the key priorities for the region. On the Tuesday 25th October 2022, we would like to present these emerging findings and co-develop actions to address these priorities. Please come along and have your say!"
For more information or to register, please click the link below: Smart Villages – North Kerry and West Limerick (nkwlsmartvillages.ie)"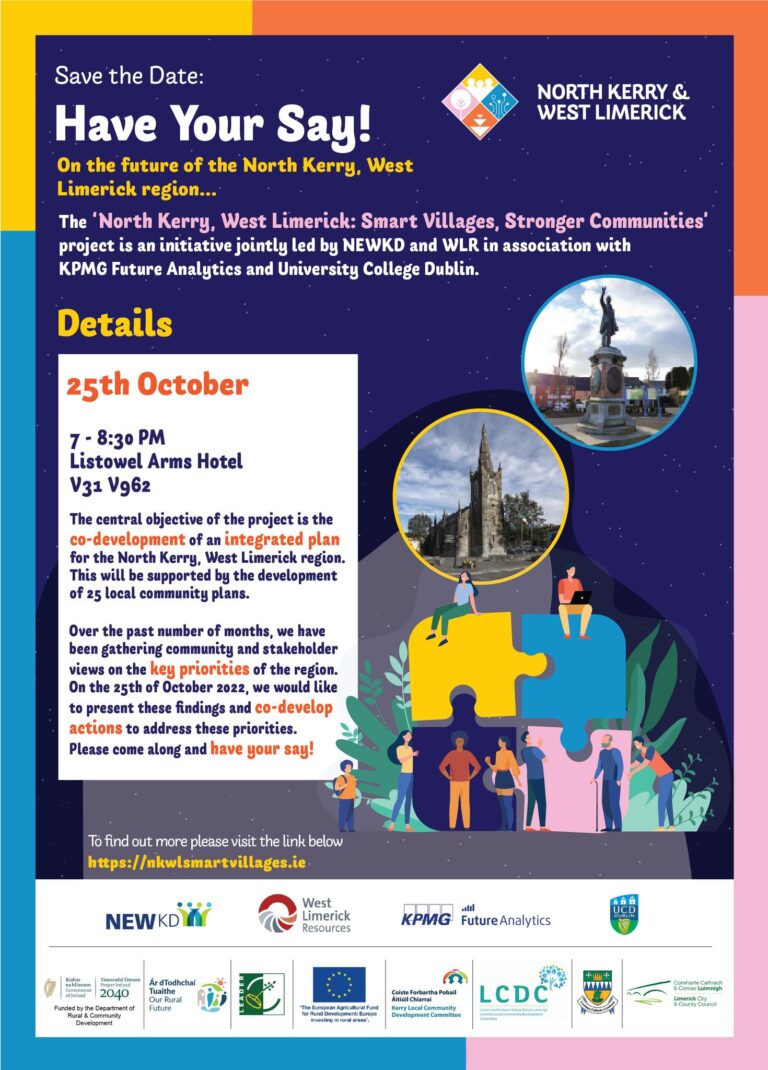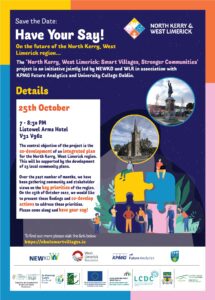 Background
The North Kerry area has, for many years, experienced more disadvantage than other parts of the county and indeed the country, and it is the view of the board of NEWKD that without significant action in the short and medium terms that this unfortunately will continue. This is in spite of the fact that from a resources perspective the area is well off in terms of land, sea, people, culture, etc.
John Stack, NEWKD Chairman stated "From a regional perspective the area has a lot in common with West Limerick and therefore both local organisations have instigated a cooperative approach to examine the issues, seek input from local people, and come up with a set of actions that will develop a consistent, positive and developmental approach from local, regional and national bodies. Without taking sides on any issue it is instructive to note that the Tarbert-Ballylongford landbank was bought decades ago, but – in spite of many efforts at various projects – no development of industry that would employ our local people has taken place there as yet. As long as there is a lack of progress in the region we will continue to experience the outmigration of our young people with little prospect of their return. This will lead to a further drain on the vibrancy of our communities and further increase in the percentage of the population being in the older-aged cohort".
Therefore the Board of NEWKD are issuing a strong invitation to each and every one interested in the region's future to attend the upcoming Smart Villages, Stronger Communities event in the Listowel Arms 7pm-830pm on Tuesday 25th October.
END
For further information contact:
NEWKD:         Robert Carey   robertcarey@newkd.ie            087 2887824
John Stack       johnstack1@outlook.com        086 2159045