Kerry Jobs Fair 2022
April 25, 2022 @ 10:00 am

-

3:30 pm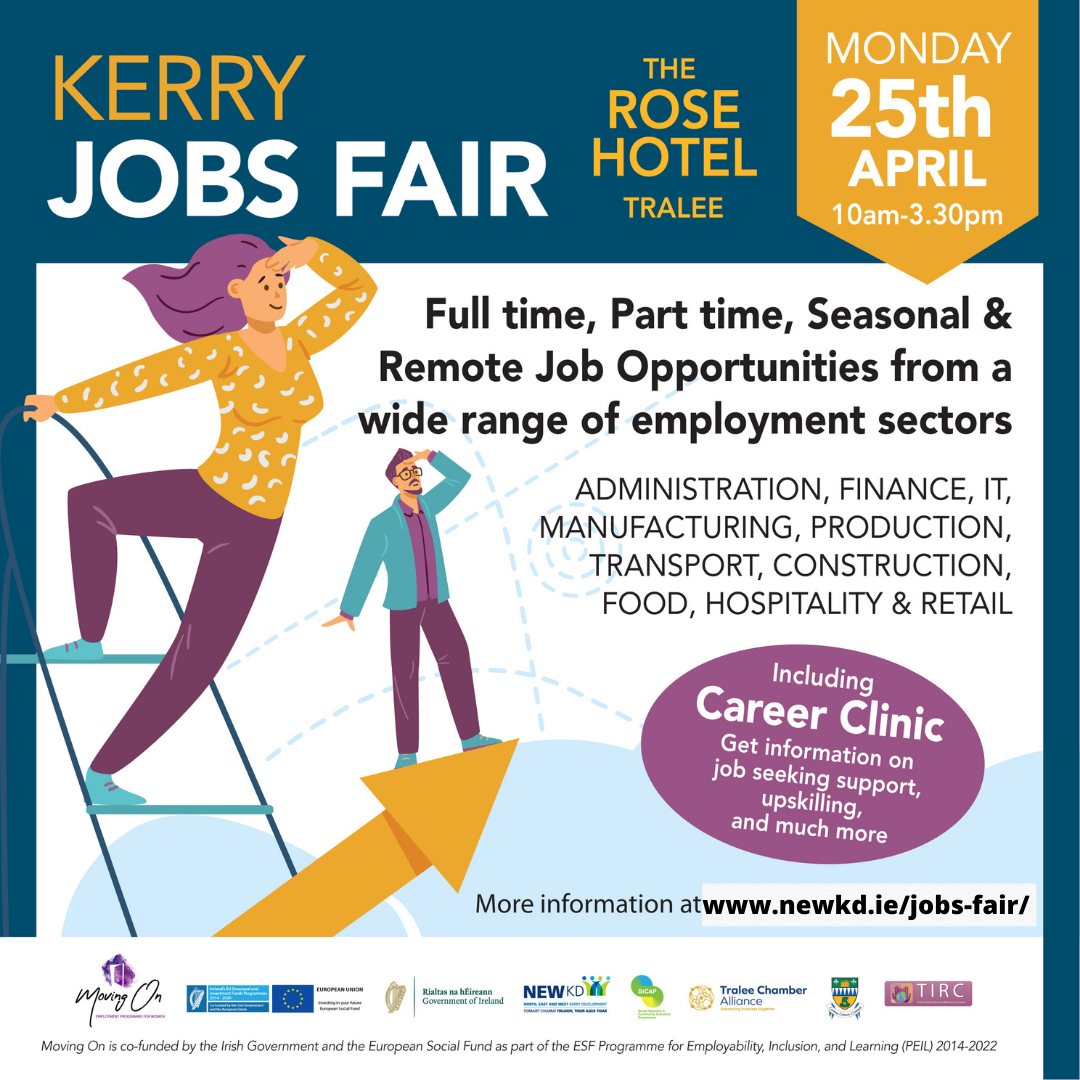 Kerry Jobs Fair 2022
Employers and jobseekers will get a unique opportunity to meet face to face to see if they can make a suitable match at a Kerry Jobs Fair 2022 which will take place on Monday 25th April at the Rose Hotel from 10am-3.30pm. The event will showcase jobs from many of the county's leading companies.
The event is being run by NEWKD's Moving On and SICAP programmes in association with Kerry Chambers.  This is a free event which is open to the public on a drop in basis with 100's of job opportunities across a wide range of sectors in Kerry.  Employers are recruiting in many different sectors with a great variety of positions.  Alongside the employers will be a Careers Clinic offering job seeking supports like CVs and cover letters as well as information on upskilling and qualifications.
According to Lisa O'Flaherty co-ordinator of Moving On who organised the event "the response from employers has been fantastic.  Over 30 employers will be present on the day who are actively looking to employ staff.  This is a great opportunity for people looking for work in Kerry.  There are a large number of current vacancies across a range of sectors including office administration, IT, accounts, finance, hospitality, manufacturing, food production, retail and more.  People will have the chance to talk to employers directly about full time, part time, seasonal and remote job vacancies."
Lisa encourages "everyone looking for work to come along on the day.  At Moving On we have supported hundreds of women to return to work over the years.  We know it can be intimidating to take the first step so there will be people available to welcome you on the day.  Don't miss this great opportunity to explore your future career prospects."
NEWKD's ESF Moving On employment project and SICAP social inclusion programme came together to fund this this event and wish all the employers and job seekers best wishes for the day.  For more info please contact lisaoflaherty@newkd.ie.
 Did you know attending Kerry Jobs Fair can increase your chances of getting a job?
 When you attend a job fair, you get to meet with recruiters face-to-face
 This in-person interaction with company employees allows you to make a great impression that cannot be accomplished through an online job application
 Making you much more likely to hear back from a recruiter met at a jobs fair than an online application, because you have already established a relationship
 Attending Kerry Jobs Fair 2022 fair is great opportunity to start making personal connections with companies you are interested in working for, so take advantage of this opportunity and come along on the day
 Keep an eye out for more posts this week with tips on how to stand out and get hired at Kerry Jobs Fair 2022